In de avonduren als de kinderen heerlijk liggen te slapen bespreken we de dag door, kijken we een filmpje via YouTube of netflix of spelen we spelletjes tegen elkaar. We spelen vaak makkelijke en korte spelletjes al komt het sporadisch voor dat we langer spelen. Benieuwd naar welke spelletjes wij spelen? Lees dan  snel verder.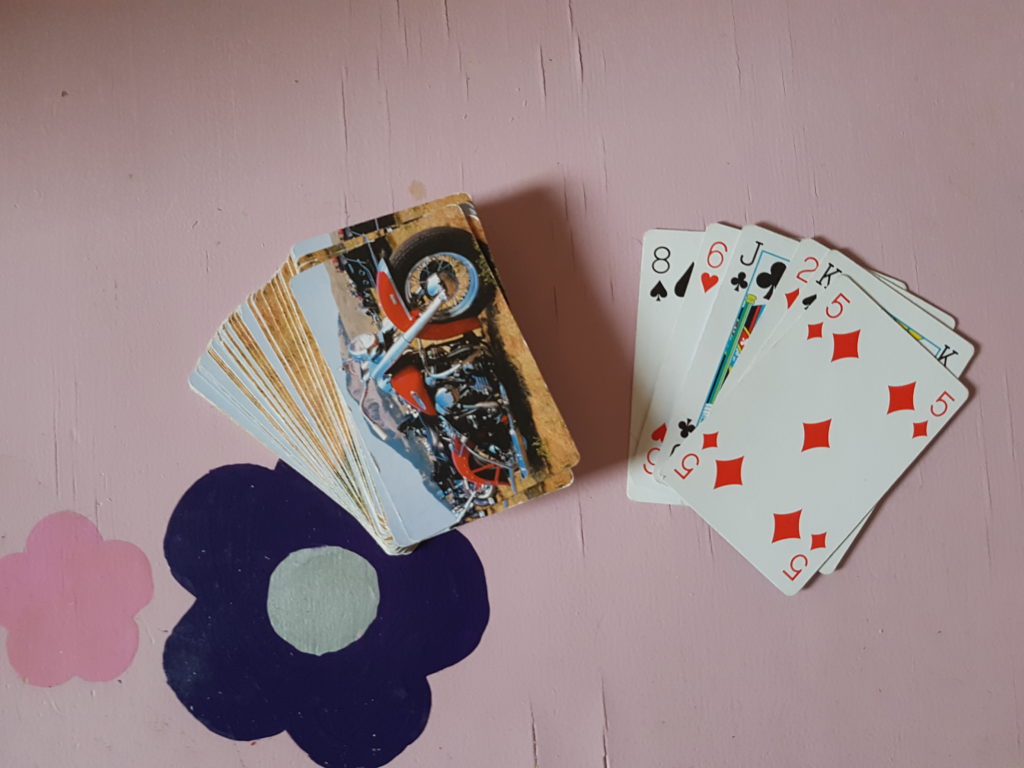 Kaarten
Een stok kaarten mogen niet ontbreken in ons huishouden, daar zijn we het allebei over eens. Ze nemen amper ruimte in,  ze kosten vrijwel niks en er zijn talloze mogelijkheden om te spelen. Als we kaarten beginnen we meestal met een potje pesten. Als we dat zat doen we een poging tot een toren te bouwen van de kaarten of proberen we van elkaar te raden welke kaart we in gedachten hebben. Ook vinden we het leuk om te ezelen of te duizenden. Genoeg mogelijkheden dus.
yahtzee
Yathzee neemt net als een stok kaarten amper plek in beslag. Je hebt er een scoreblok en vijf dobbelstenen voor nodig een beker om de dobbelstenen te schudden kan ook, maar dat vind ik persoonlijk niet nodig. Bovendien neemt het ook nog onnodig plek in die ik veel beter kan gebruiken nu we hun en weer reizen. Yahtzee is speel ik ook graag alleen als mijn man niet thuis is en zelfs met hulp zou Sjors het straks ook mee kunnen spelen.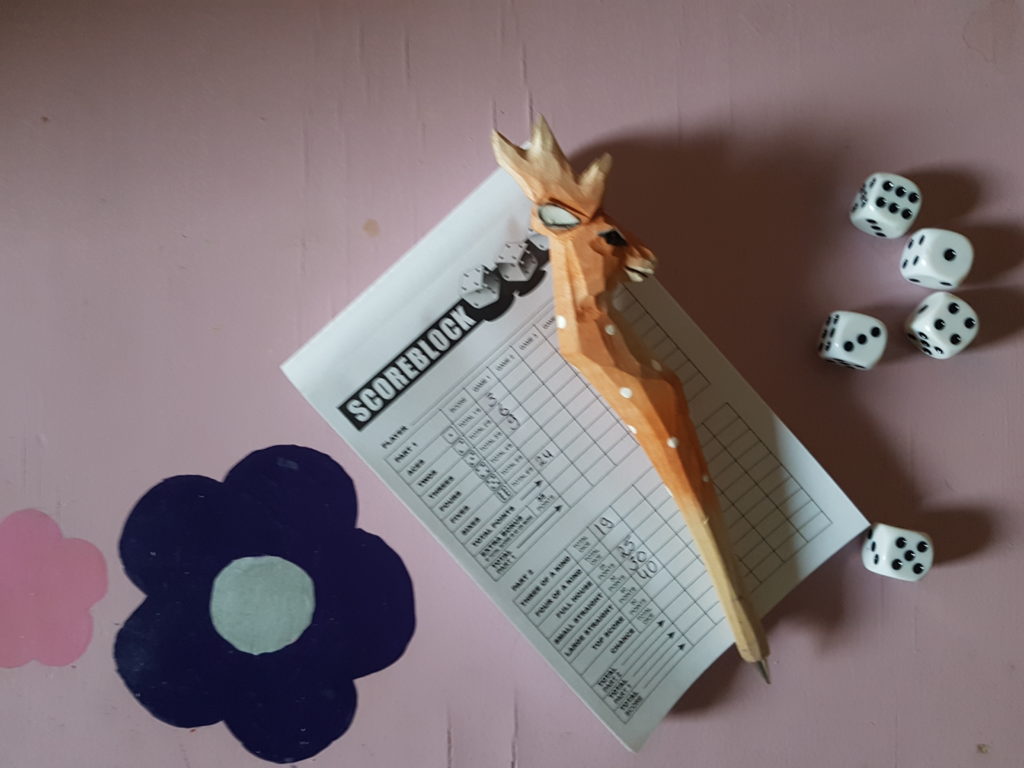 Zeeslag
Zeeslag is voor ons erg vermakelijk om te spelen, het blijft elke keer weer spannend wie er nu weer gaat winnen. Dit spel is al wat ouder en heb ik van huis uit min of meer meegenomen en nu  spelen we het zo nu en dan. Het ziet er niet zo luxe uit als de nieuwste versies die er te koop zijn, maar hij functioneert prima. We vinden het erg leuk om steeds de schepen zo te plaatsen op een manier dat de tegenspeler ze niet snel kan vinden. Vooral het kortste bootje moet goed verstopt blijven voor de tegenpartij. Als we van elkaar een patroon gaan herkennen waar de bootjes kunnen staan is het weer tijd voor een ander spel.
Scrabble
Als we wat meer tijd en zin hebben in een spelletje dan pakken we meestal Scrabble erbij. Dit spel duurt wat langer en is daardoor niet altijd ons favoriete spel om te doen. Het is leuk om te zien dat onze woordenschat hier echt mee kan groeien. Als we twijfelen over een woord zoeken we het online op en als we een paar letters overhebben is het ook echt zoeken geblazen naar de juiste woorden om op de juiste plaatst te leggen.
Monopoly
Een paar jaar geleden kreeg ik voor mijn verjaardag het spel monopoly om het te vieren hebben we gelijk een potje gedaan. We hadden de oude versie nog liggen en heel af en toe speelden we het spel eens. Helaas spelen we het spel niet heel vaak. Het duurt vaak erg lang voor we er klaar mee zijn en met de kinderen erbij is het vrijwel onmogelijk om het spel normaal uit te spelen.
kolonisten van catan
Dit spel hebben we van ons huwelijksgeld gekocht. Het spel speelden we tijdens kerst bij mijn oom en tante samen met mijn neven en dit wilde ik heel graag zelf ook hebben. Thijs stond er niet zo op te springen om weer een spel erbij te hebben om te spelen. Toch vind hij het zo nu en dan wel leuk om te spelen. Het is helaas ook al weer een lange tijd terug dat we het gespeeld hebben. Samen met mankomanie en nog wat bordspellen staan ze in Hongarije te wachten tot we er eindelijk eens mee gaan spelen.
spellentjesmiddag
Buiten de bordspellen spelen we ook wel eens 'doen, durf of de waarheid' , 'wie ben ik' en verzinnen we soms ter plekke iets. Op deze manier kunnen we samen even ontspannen zonder de kinderen en zonder telefoon. Als het mogelijk is praten we ondertussen samen over koetjes en kalfjes en komen we soms op onderwerpen uit waar we normaal niet over zouden beginnen. Ik zou het heerlijk vinden dat als we straks een beetje gesetteld zijn we vaker spelletjes gaan doen. Ik zie het wel zitten om elke week (ook met de kinderen) een gezellige spelletjes avond/middag of ochtend te hebben.
Houden jullie daar ook zo van om een spelletje te spelen? Welke spelletjes vinden jullie het leukste?
Liefs Andrea